About Us
Progressive Polishers and Electroplaters provide full electroplating, and metal polishing and finishing services to commercial and residential clients. From large industrial electroplating runs to the polishing of a family heirloom, no job is too big or too small.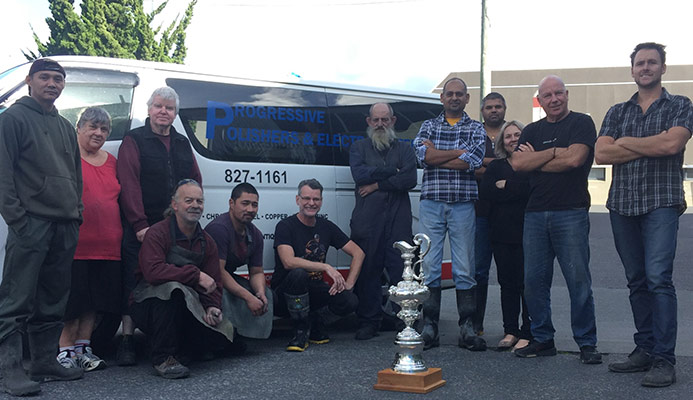 Our Complete Service
Strip

Our metal stripping system removes rust, corrosion, & coatings without causing damage to the base material, allowing many metal articles to be restored to as-new condition.

Clean

Over time metal can become discoloured & damaged – regular cleaning,or a remedial clean, will ensure it's kept in the best condition possible & always looks like new.

Polish

We specialise in polishing silver, gold, aluminium, brass, copper, bronze, stainless steel, zinc, & steel. No matter how tarnished it looks now, we'll have it back to sparkling.

Electroplate

We electroplate almost any metal with almost any metal finish – including steel, cast iron, stainless steel plating, brass & bronze plating, copper plating, aluminium plating, & zinc di-cast.

Repair

We offer a full repair & restoration service for most metals including sterling silver, electroplated nickel silver (EPNS), pewter, brass, copper etc. Including trophy & heirloom repair.
Metal protection and restoration is what we do!
Electroplating & Chrome Plating provides corrosion resistance. We are able to polish and restore any type tarnished metal. Our metal
restoration experience and expertise includes:
Commercial and industrial clients
The team at Progressive Polishing and Electroplating is one of the largest and most experienced polishing and metal plating teams in Auckland.
We already serve a number of large and small commercial businesses with their metal polishing, electroplating and barrel plating needs – we would love to add you to our client list.
Contact Progressive Polishers and Electroplaters to get a quote for your metal restoration project.
Household metal restoration
No item or job is too small for the team at Progressive Polishers and Electroplaters. Whether you are having a tidy-up around home or doing an entire house or villa renovation, we can polish, lacquer, re-plate and restore anything metal.
Door Handles
Door hinges
Window stays
Cupboard latches
Coat hooks
Fire surrounds
Door knockers
Ornamental items
Push plates
planters
Letterbox numbers
fire extinguishers