Silversmithing – Repair – Polishing – Electroplating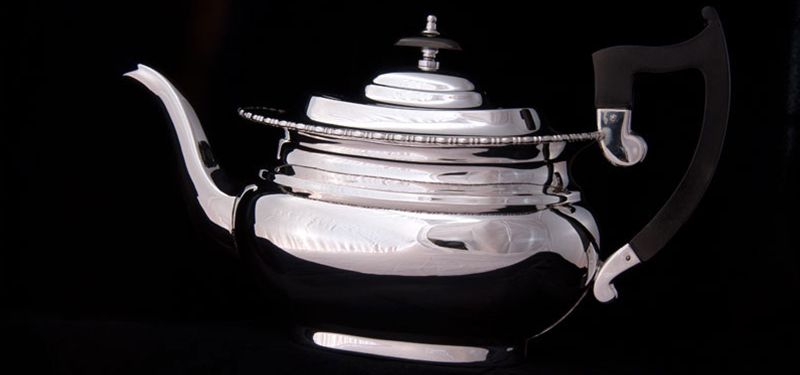 At Progressive Polishers and Electroplaters, we offer a full silverware restoration service. Our services include polishing and restoration of sterling silver, Electro-plated nickel silver (EPNS), pewter, brass, copper etc.
We understand the great sentimental value many of these items will have to their owners. That's why we treat every item with the utmost care and return it to you looking almost brand-new.
Silverware Refurbishment and Plating
Our team, including our inhouse silversmith, has over 50 years of experience in silver re-plating, nickel re-plating, pewter refurbishment.
Items commonly entrusted to our team to bring back to life include:
Decorative and fine arts items and ornaments
Domestic tableware (trays, cutlery, dinner set, etc.)
Commercial tableware (trays, bain-maries, commercial potware, plated appliances etc.)
Liturgical metalware (church and religious items)
Trophies and cups
Silver coffee and tea pots, silver vases
Silver jewellery
Anything made from metal
We have all seen silver items darken with age. It can be caused by oxidation, or it could be that, over the years, the silver coating has worn away. When that happens, it needs to be recoated if it is going to sparkle again.
We are able to recoat silver and other metals with a coat of up to 20 microns – a heavy and durable coating thickness.
Silverware Polishing
Over a period of time oxidation will cause silver to tarnish and lose its shine. Don't be fooled into using a chemical dip to clean your silver. They can cause irreversible damage.
Our experienced in-house silversmith will polish your silver items and have them shining like new, including antique silver items.
Our metal polishing service will restore almost any metal surface including, brass, bronze, copper, gold, chrome and stainless steel
Silverware Repair
Our in-house silversmith can repair and, in some cases, rebuild any damaged item of sterling silver. We can restore antiques and jewellery to look near new.
It is easy to damage treasured items. Don't assume that they will never look new again. Bring them into Progressive Polishers and Electroplaters factory in New Lynn, Auckland, and we will give you a quote for a silver repair.
Common silverware repairs include things such as:
Missing or broken handles on silver trays or bowls
Broken silver trophies or silver cups
Engraving mistakes on silver trophies and silverware
Dents in silverware
Bent silver cutlery etc.
Click here to contact Progressive Polishers and Electroplaters or to get a quote for your metal restoration project.
What Are My Finishing options?
We Make It Easy to Get Polished